No board member or business leader can as an individual say – or influence – how his or her company will look in three to five years.
It's also unclear how the competition will react or which technologies will triumph. The only thing that is mostly certain is that there will be competitors that no one knows today. Market leaders that seem unassailable today could disappear from the landscape, like Nokia a few years ago. Even for "digital native" companies that once were market leaders, success can quickly become a thing of the past, as was the story of MySpace or  Yahoo. This dynamism through volatility, insecurity, complexity, and ambiguity not only shortens the planning horizon of technological developments in a previously unknown way. Pressure also increases on companies and their leaders to attempt to calculate the incalculable. The result is, in the complex world of today, companies can no longer be guided centrally.
Many buzzwords like "agility" and "dynamism" will be complemented with "collaboration" and "participation". Methods such as "design thinking" or "scrum" will empower innovation, customer orientation as well as speed, and not just in the IT industry.
How is Company Leadership Changing?
Researchers have investigated the status, perspectives, demands, and challenges to changes in company leadership. In a study carried out by the Center for Leadership and Behavior in Organizations (CLBO) at Goethe University in Frankfurt, management and workers were polled about their thoughts, then they discussed the results with experts, and finally, with the help of renowned cooperation partners, possible processes for the company were designed and tested.
Customer Orientation
In summary, digital leadership shows a consistent focus towards customer orientation – from inside and out. For a successful outcome to this "user-centricity" or customer orientation, company leadership should have "a joy for a loss of control", above all bringing together the right people and creating the basic conditions for target-oriented work, but no longer making every decision by themselves. This position is based on the conviction that complexity cannot be grasped and influenced in all its facets by digitalization. This sober insight is an important condition for flexibly and agilely taking advantage of – instead of merely reacting to – the constantly changing demands of competition.
When I conducted a survey on digitial leadership in companies, I found that employees are not very good at evaluating the competencies of their managers, and in the opinion of the leadership, there was still much to do in this regard. This is because currently the skills of the individual and the competencies in the company are rather lowly valued. At the same time, it was mostly unclear where the needed competencies could be increased or expanded.
Digital Leadership has to Start at the Top
Without support of the company's management, digital leadership will never be successfully implemented – in this, all those surveyed – independent of branch or company size – were united. Just as united were those polled in saying that the example of prominent CEOs in the US or impressive "digital native" companies did not provide the impetus toward introducing or implementing digital leadership. Only when direct competitors had success with new leadership practices or when the first successes were recognized in their own companies, did those surveyed find motivation for further development in digital leadership.
Furthermore, desire and reality are markedly different. While on one side, the topic of digital leadership is considered important for all business areas now and in the future, it is currently still weakly applied. For nearly half of those surveyed a discussion around digital leadership in their own company was "so far not an issue". Frank Kohl- Boas of Google Germany has spoken out against this lethargy saying, "it is high time to tackle this topic radically, faster, with more courage and on the basis of its importance."
But how will the discrepancy between desire and reality, especially with regard to the demands on leadership and their underdeveloped competencies, be harmonized? The bottom line of the study was that there is no silver bullet to digital leadership, that is, there is no identifiable toolkit that is effective in every situation. So, what can a company do?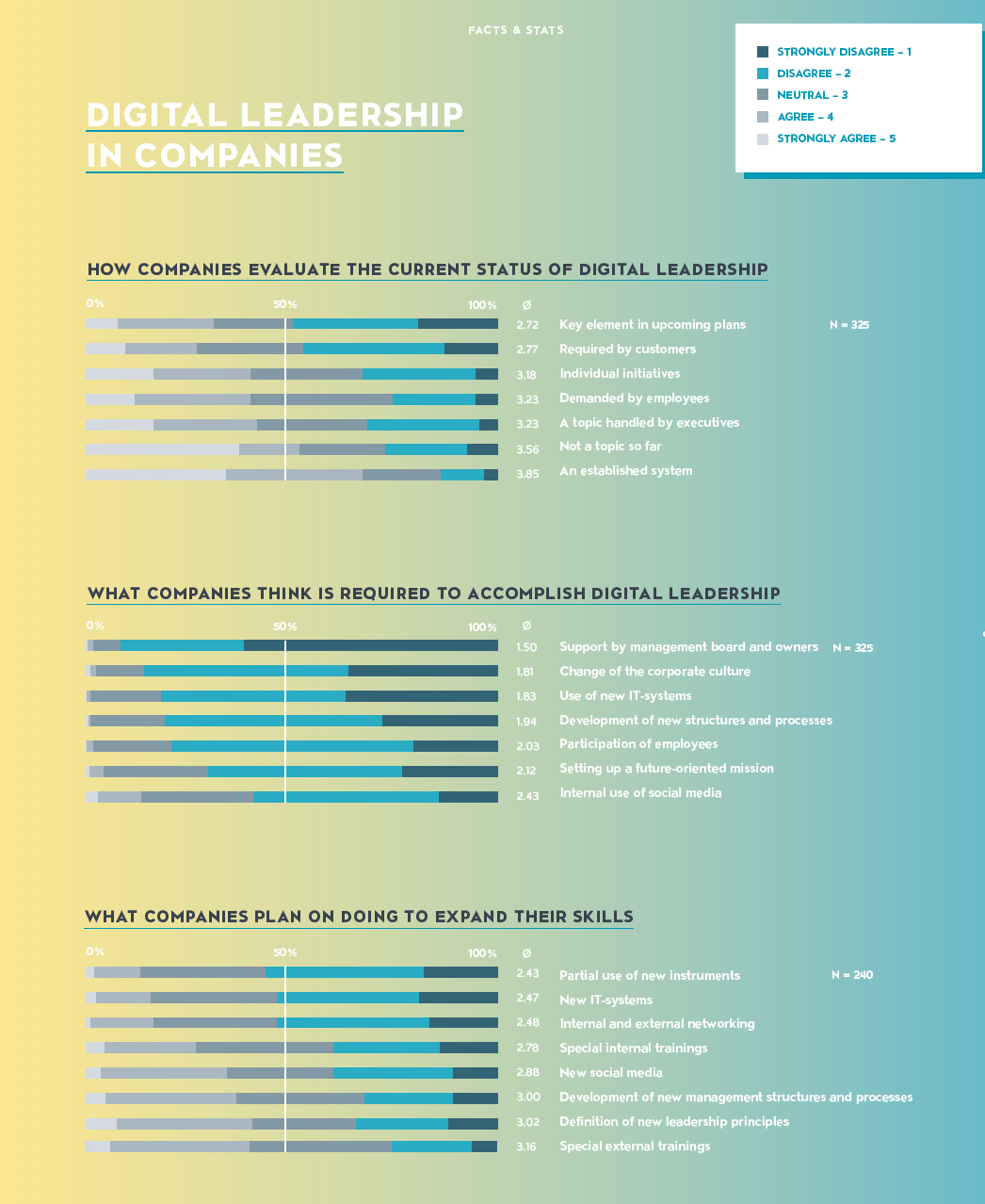 Every Beginning is Agile 
This is the inspiration for the so-called Think Digital Screening that was worked out in the context of the study from the resulting hands-on experience. The goal is to make company management willing and able to value digital leadership and to decide on the processes within the company. Processes that are appropriate for the company's needs. What is special about this is that an increase of status was already marked by a higher level of agility that would be later reached in the entire company through digital leadership.
Think Digital Screening shows how management currently operates in hierarchy-free, self-organized teams. In the teams, a task could be, for example, what the company leadership in the future will look like to able better fulfill the demands of customers (non-management employees also participate in this).
How to Start 
The screening is a very lean method that delivers operatively useful results in a short time. First, the inventory will be looked at as a whole – from the current instruments (such as leadership principles, measures for development of management personnel, etc.), targeted results (from surveys, performance evaluations, etc.) to formal procedures (such as meeting culture, decision processes, etc.). From here possible capabilities will already emerge for the transformation towards digital leadership.
Emphasis is placed on moderated group dialogues with leadership members who are selected at random. This encourages conversation around how different teams can organize themselves in a short time, and how to create flexible and agile leadership processes. These focus groups make it possible to evaluate the current preparedness and ability for digital leadership. Depending upon the company's size and structure, it is usually enough that a few groups working two hours each decide on the most important management issues and needs as well as the best options for further progress.
Learn from Experience 
Every company has to find its own way to implement new types and scenarios. In practice, it is often worth it to first create free places or platforms for discussion, such as a think tank. There are new methods and forms of cooperation that can be rehearsed concretely that lead to improvements and useful innovations faster. Mistakes and negative experiences are thereby an elementary part of learning. In order for this to work, currently, existing hierarchies and structures for decisions that exist in parallel to them must be replaced. Management has to unlearn "yes but" or "I know already." Then digital leadership will awaken undiscovered potential in the company and use it successfully against the competition.