A few years ago, while I was working at McKinsey, I made an important discovery. The success of a project is to a large extent not determined by your hard skills, not by the quality of the analysis, and not by the number of hours put into the project.
Although these are important factors, the success of a project is very dependent on the softer side of things. Was the consultant comfortable in the consensus-driven culture of the client's workplace, or was the consultant pragmatic enough when the client was more of a doer?
In other words, the right skill set might get you through the door, but it's your working style and character that gets you invited to dinner.
When I went on to found my own company a few years later, I used these lessons learned to build a client-consultant matching process not only based on skills—but also on working style and softer factors. Eventually, COMATCH integrated a sophisticated working style assessment, called StyleMatch, into our process to automate this even further.
Many COMATCH employees, like myself, are former consultants. And like me, they've reflected on their experiences and used them to facilitate better client-consultant matches.
William Jones, Director UK&I (Former Accenture Strategy Consultant)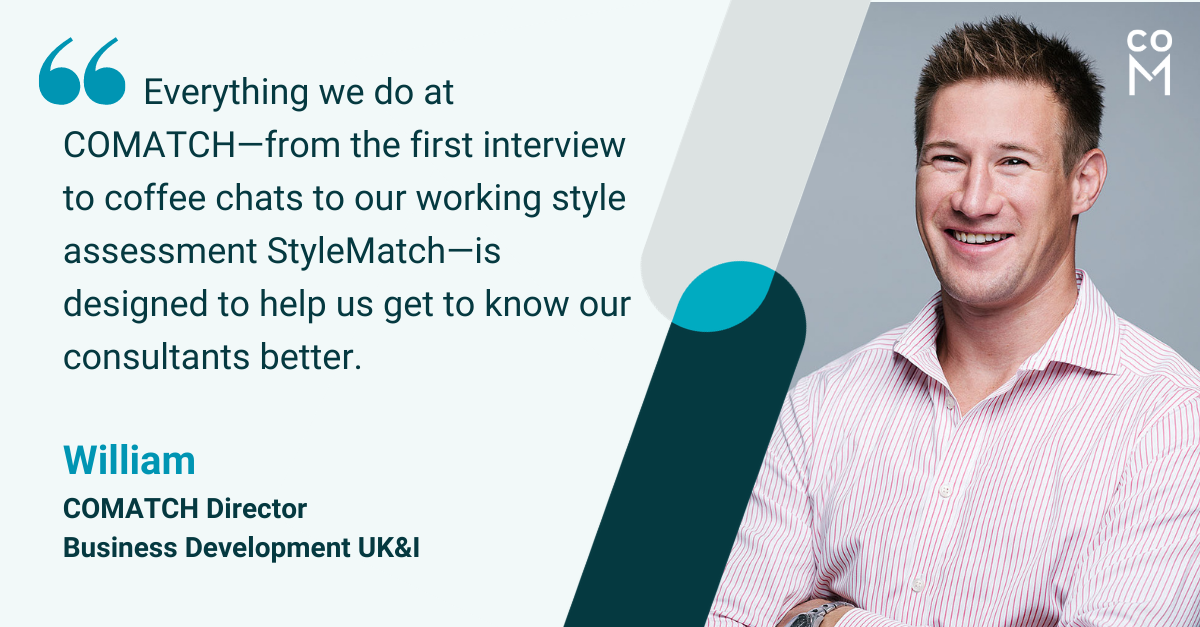 I was on a consumer goods project in England and was tasked with answering the question, how can this company make sure that its products are consistently meeting high standards?
I looked at the policies inside the company and industry best practices to come up with the best recommendations for the client. It was a massive collaboration effort that involved working with different departments to find out what would work for everyone. If we pushed ideas that everyone didn't like, they simply wouldn't do it. Ultimately, the project was a success and extremely enjoyable as my working style is collaborative and diplomatic.
Now as a Director at COMATCH, I've discovered that finding the right hard skills is relatively simple, finding the gems and the rockstars is harder and contributes significantly to the success of a project. So you need someone who can build your market entry strategy? Easy. What matters more is the question, what is the person I am going to work with like? How would they fit with the rest of the team?
Everything we do at COMATCH—from the first interview to coffee chats to our working style assessment StyleMatch—is designed to help us get to know our consultants better. As a result, the client can rest assured that they are truly getting the best person for the job—not just someone who can perform the tasks.

Bernhard Ney, Managing Director International (Former BCG Consultant)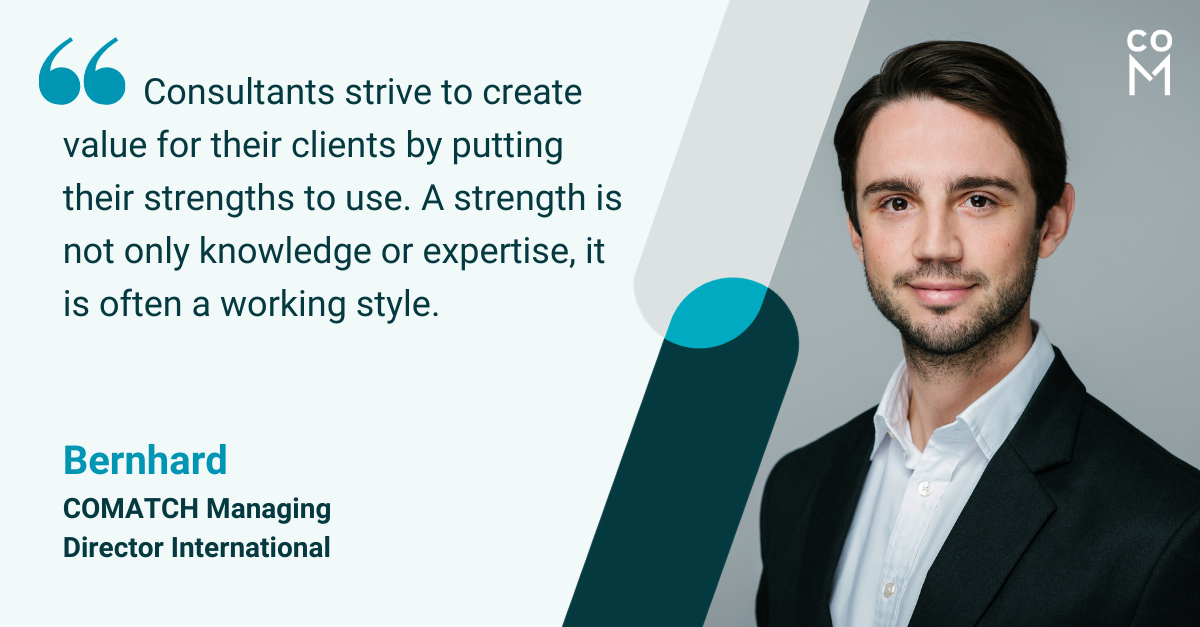 I have worked on many projects in my consulting career that required a wide variety of working styles. Sometimes my natural working style corresponded to what was required—and sometimes I had to adapt.
For example, on a due diligence project, there was a kickoff, biweekly status updates, and a final presentation, which were the only client touchpoints. The consultant team I was on split the project into modules, and everyone mostly worked independently. Individual thinkers were very happy in this setting, but for me as a collective thinker, this was a less enjoyable experience. I work best in more collaborative environments and prefer to develop ideas with a team. My favorite project experiences were when I was on a team of both clients and consultants collaborating closely. While both project setups can work well, I likely delivered much better results when I was able to use all of my strengths.
One of COMATCH's core messages is "It's more than just a job". That does not only mean consultants strive to be their own boss and decide on the topics they work on, they also want to enjoy their project work. They strive to create value for their clients by putting their strengths to use. A strength is not only knowledge or expertise, it is often a working style.

Charlie Gregson, Managing Director UK & Ireland (Former L.E.K. Consultant)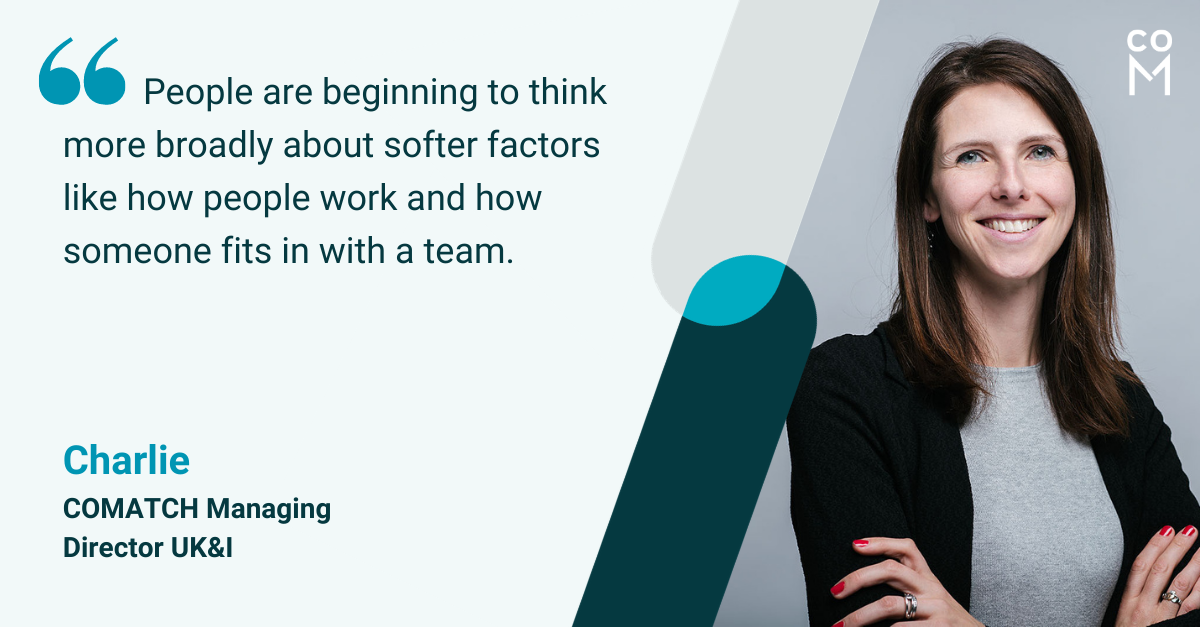 I was working on a project in the Pharma industry and observed that the client and the project lead had two completely different working styles, which made the collaboration rather difficult. The client was more of an analyzer and was adept at looking into details and numbers. The project lead was not, he was more of a doer preferring to make quick decisions to get the job done. However, the consulting firm did not take him off the project, so he stayed, but the client interactions were pretty toxic. In the end, the client was happy with the results, but a better fit would have helped the project move forward faster and made the collaboration more comfortable and easier.
Thankfully, people are finally beginning to think more broadly about softer factors like how people work and how someone fits in with a team's culture. In my experience, the way in which someone works is often the thing that determines how successful a project is—functional and industry knowledge should be taken as a given.

Christoph Hardt, Co-Founder/CEO (Former McKinsey Consultant)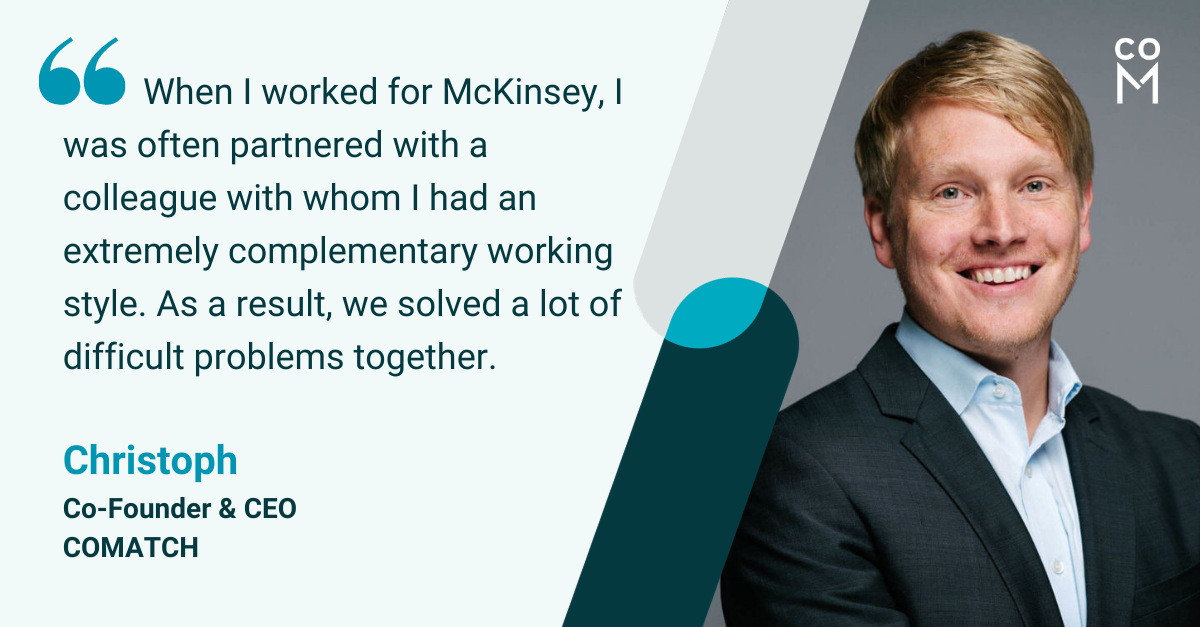 A consultant's core task is problem-solving. You often find yourself in front of a whiteboard with your team trying to create a story filled with facts and data. What is the root cause of the problem? How can you solve it? How can you persuade the client?
When I worked for McKinsey, I was partnered with a colleague with whom I had an extremely complementary working style. Both of us were collective thinkers who needed to exchange to reflect. But he was more analytical than me. I was more creative—he listened, took notes, and asked questions. He gave structure to my ideas. As a result, we solved a lot of difficult problems. Once we even took over a project from another consulting company because they were unable to solve the client's core challenges. We were able to solve the issue in a few days.
I think collaborating with people with different working styles can always teach you something new and is a significant benefit for clients. Obviously, some partnerships are better than others, but I do believe that knowing who you work with best is an asset to any team. 60-70% of a project's success depends on the right working style, so don't underestimate the power of good collaboration.
---
Creating the right environment for clients and consultants is essential to the success of a project. While hard skills are important, softer factors like working style are often a good indicator of how satisfied the client and consultant will be with the end result.
To learn more about how we create the best matches for our clients, check out our post on StyleMatch, a working style assessment that takes the guesswork out of compatibility.