A solution is a cloud-solution when it is a pay-per-use service that is globally available as a self-service. The purpose of a cloud solution is to stop investing in buying hardware material on your own (servers, operational systems, storage devices) but rather to pay for a service provided by a third party. 
1. Cloud solutions can help you shift from CAPEX usage to OPEX
Cloud solutions and the shift from CAPEX (capital expenditure) to OPEX (operational expenditure) should always be considered when defining a company's strategy. While it makes sense for companies focusing on tax optimization for instance, it does not necessarily benefit companies seeking a growth of assets.

2. Cloud solutions facilitate adjustment to business demands 
The key success factor for an IT organization is to be aligned with business objectives meaning they should be able to react promptly to demands while also anticipating and supporting business model innovation. Cloud solutions support IT organizations in developing their service portfolio, leveraging the three major skills below: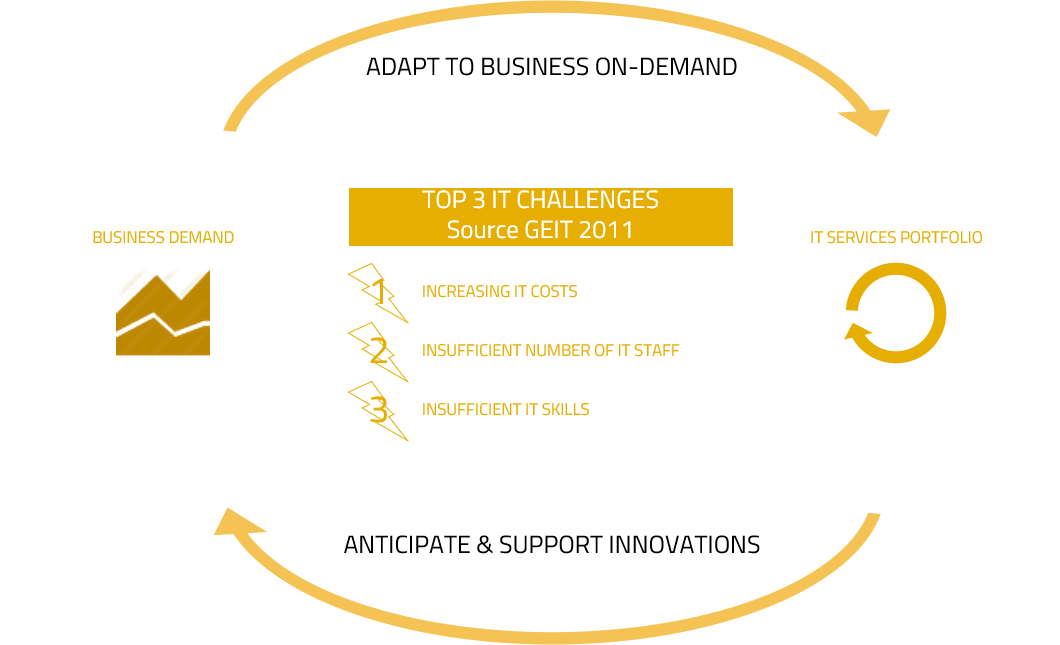 I. They can predict the unpredictable 
When innovation cycles increase, so does the demand for IT services. And to meet time-to-market objectives, demand must be satisfied almost at once. As a business evolves, demand for a previously required service may also decrease accordingly. For a newly requested service to be delivered, some IT skills and resources must be organized and configured accordingly.
Cloud solutions are a perfect enabler to compensate for some skills (disaster recovery plan, …), resources (security expertise, …) or services (mass storage, …).
II. They encourage versatility and enable innovation 
In a business context where the service compliments the product, innovation should should be paired with providing a wide range of services.
Innovation involves collaboration, expertise extension and differentiation. All three can be supported by cloud computing (see Knowledge Based Innovation by Anand, Gardner, Morris).
Collaborative services are among the most cloud computing supported capabilities envisioned by IT managers. Cloud computing may broaden IT service portfolios as required to either facilitate a service extension or build upon differentiated services.
III. They help you deliver value at the right cost 
When switching from CAPEX to OPEX through a cloud computing solution, the return on investment of a given IT service currently in place no longer affects the question "decommissioning or not decommissioning?" in the same way.
In a CAPEX mode, investments must then be managed with their relative depreciation rate to decide whether or not stopping the service is worth it. In an OPEX mode, it is just a matter of interrupting the contract in place that rules the service that is no longer required. In the end, compared to an OPEX mode, a service that no longer brings value to the business would still cost something in a CAPEX mode.
3. Move no faster than your maturity allows 
Two major factors must then be assessed before transforming into a cloud driven IT organization—technology and maturity.
When we talk about maturity, we mostly talk about contract management, IT operations and architecture methodologies that will support change and transformation—from reactivity to proactivity with a more end-user focused attitude.
As cloud supported services are ruled by dedicated contracts, service managers must be able to design, monitor and control their execution by the contractors in order to satisfy the Service Level Agreements (SLAs). This means that all underlying mechanisms behind running a cloud service must be put under control with the appropriate monitoring tools, skills and approach, including all security and compliance constraints.
This requires that both incident and problem management be designed and adjusted to a cloud environment, to clearly identify the key stakeholders involved from identification to resolution and delivery. To reach service performance targets, root cause analysis must also include a transversal overview to fully assess impacts on a global scale, putting end user experience at the core of a solid architecture framework. And in the end, release management must be fully automated or at least for a relevant process to integrate the inner constraints of a cloud service.